Local Farmers Markets To Check Out
With fresh produce, homemade baked goods, preserves, and many other delicious options, famers' markets are a great way to eat healthy and support local farmers in New Jersey. Yes, summer may be winding down but there are several famers' markets that are here to stay for the next few months (some even until December!) in Hoboken and Jersey City.
Downtown Famer's Market
Where: Washington Street & Newark Street

When: Tuesdays, 3:00pm-7:30pm (June 26 – October 26)

"Since 1996 the Hoboken's Downtown Farmers' Market has helped New Jersey farmers sell their produce directly to the residents of Hoboken. It's a weekly event that brings rural and urban New Jersey together and reminds us all why we are the Garden State."
Uptown Farmer's Market
Where: Hudson St. & 13th Street

When: Thursdays, 2:00pm-7:00pm (June 26 – October 24)

"The Hoboken Uptown Farmers' Market was founded in June of 2009. A group of local residents felt a need for fresh, local produce and other epicurean delights in uptown Hoboken and the market was born. Shopping at a Farmers' Market is great for the local economy, your health and your carbon footprint."
Family Farmer's Market
Where: Garden Street & 14th Street

When: Saturdays, 9:00am-2:00pm (June 1 – November 23)

"The Garden Street Farmers Market fosters ongoing interaction between New Jersey farmers and the local Hoboken, New Jersey community. We aim to support sustainable agriculture, small businesses, and making farm-fresh produce available to the community. The market is located at The Garden Street Mews (14th & Garden St.), a pedestrian-only neighborhood gathering space."
Jersey City
Farmers' Market at Lincoln Park
Where: Westside Avenue & Belmont Avenue

When: Sundays, 10:00am-3:00pm (June 5th – October 30th)

"The Farmers Market at Lincoln Park, sponsored by the West Side Community Alliance (WSCA), provides a venue where local farmers and artisans come together to provide a variety of fresh produce and related products directly to residents of the west side of Jersey City."
Friends of Arlington Park
Where: Arlington Avenue & Grand Street

When: Saturdays, 10:00am-2:00pm (June 4th – October 29th)

"Great local produce, fresh fruit, prepared foods, spices, crafts, jewelry, music and more! Please bring your own bag to help reduce waste!"
Hamilton Park Farmers' Market
Where: 8th Street & Jersey Avenue

When: Wednesdays, 3:00pm-7:30pm (May 4th – December 7th)

"Fruits, vegetables, pickles, breads, nuts, baked goods, fresh oven baked pizza, empanadas, veggie burgers, lemonade, cupcakes, fresh cut flowers, cookies, ice cream, frozen meals, coffees, crafts, knife sharpening, and more!"
HDSID Grove Street PATH Plaza Market
Where: Grove Street PATH Plaza

When: Mondays, Thursdays, 4:00pm-8:00pm (May 2nd – December 22nd)

"The Historic Downtown Farmers' Market began in 2008 with less than 10 vendors and has exploded into a phenomenal market with over 25 vendors serving up tasty treats from fresh fruits and vegetables to freshly baked empanadas to homemade mozzarella. Our market goes from May to December every Monday and Thursday from 4pm to 8pm."
Journal Square Farmers' Market
Where: Plaza Outside Journal Square PATH Station

When: Wednesdays, Fridays, 11:00am-8:00pm (May 4th – December 23rd)

"Our vendors are bringing with them Organic Jersey Fresh Produce, delicious breads, amazing cookies, the best Halal food Jersey City has ever seen, crisp pickles, fresh lemonade and veggie drinks, and last but certainly not least, the finest organic bath and body products to make you inner beauty glow on the outside."
Riverview Farmers' Market: Farms in the Heights
Where: Palisade Avenue between Bowers Street and Griffith Street

When: Sundays, 10:00am-3:00pm (May 1st – November 20th)

"The Riverview Farmers Market is organized by Farms in the Heights, a grassroots, 501(c)3 not-for-profit organization established to foster a greener community and promote a more sustainable Jersey City. The Farms in the Heights board is a diverse group of neighbors and friends from the Jersey City Heights community who share Farms in the Heights' philosophy and goals. All volunteers, they are the driving force behind the Riverview Farmers Market and other Farms in the Heights programming, including Ogden's End Community Garden."
Van Vorst Park Farmers' Market
Where: Jersey Avenue & Montgomery Avenue

When: Saturdays, 8:00am-3:00pm (April 23rd – December 17th)

Leonard Gordon Farm Stand
Where: Kennedy Boulevard & Manhattan Avenue

When: Saturdays, 8:00am-2:30pm (June – November)

Paulus Hook Farm Stand
Where: Washington Street, by Korean War Memorial

When: Saturdays, 11:00am-4:00pm (April 30th – December 17th)

So, when you're looking for fresh fruits, veggies and other goodies, look no further then the local famers' markets! When shopping at famers' markets, you're not only purchasing some of the best fresh produce in the area, you're supporting local farmers and small businesses… what could be sweeter than that?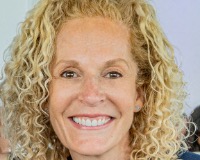 Jill Biggs leads the top-producing real estate team in Hudson County, N.J., a booming market located just outside of New York City. With more than a decade of experience serving Hoboken, Jersey City a....