Simple Guide To Great Real Estate Photography
So, you are selling your home? That's great! One of the first things we will do once all the paperwork is signed is schedule a photo shoot.
Good real estate pictures are crucial marketing tools for a home sale. In order for us to efficiently and effectively market your property. A typical photoshoot will take about an hour, consisting of still shots and video and will focus on these shots: kitchen, main living area, master bedroom, main bathroom, and any outdoor spaces. Here is a simple guideline to follow for great real estate photos!
Tip: Now is a great time to schedule for your maid to stop by!

Kitchen:
- Remove everything from countertops (food items, paper towels, soap, etc)
- Put away small appliances
- Take any magnets, pictures, etc off refrigerator
Living Room:
- Take away personal pictures
- Clear off any coffee table/side tables
- Tidy any books/knick knacks
Bedroom(s):
- No clothes or shoes on floor
- Artifully arrange bed
- Clear off nightstands
Bathroom:
- Remove bath towels
- Hide all personal care items (even in shower!)
- Hide trash can, plungers, toilet bowl brush
- Hide toothbrush & toothpaste, hand soap
All Rooms:
- Declutter and hide all personal property
- Turn on every light and open all shades (the more natural light, the better)!
- Hide cords and small electronics
- Less is more!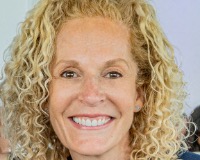 Jill Biggs leads the top-producing real estate team in Hudson County, N.J., a booming market located just outside of New York City. With more than a decade of experience serving Hoboken, Jersey City a....