Hoboken And Jersey City Event Guide
Complete list of all the going-ons in Hoboken and Jersey City this Spring/Summer!

May 12 - JC Feministival Series 2017
JC Feministival is a series of events, which will serve as a means to empower, showcase and promote local businesses owned and operated by women! Each Feministival will feature local female artists, fashion designers, health care providers, educators and other entrepreneurs. JC Feministival Series is a launchpad for women, who invest their careers and passions into further enriching our diverse community.
May 13 - Hoboken Irish Festival
Mayor Dawn Zimmer, The City of Hoboken and Irish Network New Jersey present the 6th Annual.
Featuring performances by: Gold N' Brown, McClean Ave. Band, Rogue's March, Bagpiper: Colin Nisbet, Garden St. Irish Step Dancers & Emerald Fire, Kerri Smith Academy of Irish Dance, Aherne Sheehan School of Irish Dance
Vendors selling: Irish food, crafts, clothing & more. Activities for children including: pony rides, petting zoo, moonwalk, inflatable obstacle course, face painting and more. Beer Garden sponsored by Finnegan's Pub.
Gaelic Games, Demos & Youth Clinic
Irish Soda Bread Contest (to compete contact gfallo@hobokennj.gov)
May 20 - 2017 New Jersey Armed Forces Day Festival
With a spectacular view of Lady Liberty herself and the Hudson River skyline, it will be time for family fun and with the Liberty Lightning 9K (8am), great competition, while allowing us to honor and reflect upon the young people serving this great nation. Along with military displays and demonstrations represented by every branch of our nation's armed forces, there will be music, food, and vendors.
June 3 - Jersey City Brew Fest
Harborside's Waterfront Property will be hosting an eclectic local variety of superbly fermented beer and cider in all styles combining the best elements of a Beer Garden with the staggering array of choices found only at a Craft Beer Festival. Guests will enjoy unlimited craft beer samples for the entire evening paired with live entertainment, food and Interactive games. Session 1: Noon - 4 pm; Session 2: 5:30 - 9:30 pm.
June 4 - Hoboken Wellness Crawl
The Hoboken Wellness Crawl will be a day of promoting self-care and wellness for Hudson County residents.
As a crawler, you'll spend the day exploring all of the holistic, fitness, beauty, and wellness businesses that Hoboken and its surrounding areas have to offer.
Your ticket gets you the exclusive map to the Hoboken Wellness Crawl. You'll use this to get access to 50+ wellness businesses around town and inside our two wellness hubs. Along the way, you'll test out treatments, get free consultations, and take free fitness classes. Plus, you'll get access to a freebie + giveaway opportunity from each of the 50+ businesses that are part of a crawl!
June 4 - 8th Annual Bike JC Ward Tour
"We'll ride about 17 miles on streets closed to traffic, with a police escort. We'll make a clockwise loop around the city, at a relaxed pace (10 mph), taking breaks, and returning around 1:00 p.m. to the finish. There we'll continue to celebrate cycling all afternoon at our Finish Line Festival in the Newark Avenue Pedestrian Plaza, featuring live music, food and drinks, vendors and other attractions."
June 4 - 12th Annual OLG Funfest
"This is our 12th year running this event. We kick everything off on Saturday evening with our NiteFest from 6PM to 10PM located under a tent in the Our Lady of Grace parking lot on Willow Avenue! There is always plenty of entertainment: music from our great DJ, lots of cheer from our Biergarten and great food -- Bernadette's kitchen is back and so are our the Spanish ladies and their empanadas!"
June 10 - Hudson River Loop Walk
The FreeWalkers 6th annual Hudson River Loop Walk is a one-day 30-mile walk along the Hudson bordering NYC and NJ. The official start is at the PATH station at Exchange Place, Jersey City where the walk begins north along a nearly continuous Hudson River Waterfront Walkway on the NJ side to the George Washington Bridge. Walking over the bridge we connect to the Hudson River Greenway trail heading south and ending at the World Trade Center. Take PATH train back to Exchange Place or a ferry to get back to start. Join us for an after-party at the new Lutze Biergarten in J.C.
June 11 - Hoboken Arts & Music Festival
The festival usually takes place on Washington Street's southern half, between Observer Highway and 7th Street. The spring festival, now in its 24th year, will be take place on a Sunday, as usual, from 11:00am to 6:00pm. A similar event is held every fall, as well. The festival includes three stages for more than a dozen live music acts, including a children's stage, and scores of booths selling food, artwork and crafts, up and down Washington Street. There is no admission fee, and the festival typically attracts tens of thousands of music and art lovers. This year's musical lineup has not been announced, but past spring and fall headliners have included Patti Smith, Doctor John, the New York Dolls, the Smithereens, Nancy Sinatra, Yo La Tengo, Spyro Gyro and Joan Jett.
June 17 - Dog Days of Summer Fest
FOR ALL DOGS AND DOG LOVERS, we're back for a second year of furry fun! Liberty Harbor is going to the dogs Saturday, June 17th for an afternoon of dog-centric vendors, exhibitors, and service providers. Come and celebrate all things dog related! Carnival games and giveaways will keep their tails wagging, and ZeppelinHall Biergarten & Restaurant will keep your bellies full.
See Spot Rescued will be there with dogs who need forever homes and want to meet you. After the festival, head over to Liberty State Park and take a stroll with your pooch in our beautiful state park!
August 25 - Spaghetti Dinner Block Party
Proudly presented by Mayor Dawn Zimmer, the City of Hoboken and Apply Montessori Schools. Will take place from 5-8PM at the Walkway along Sinatra Drive between 1st & 2nd Streets. Meal includes 4 kinds of pasta, meatballs, sausage, eggplant parmigiana, salad, bread and Italian desserts. Wine, beer, water, soda, will be available at additional cost and sold to raise funds for the Hoboken Ambulance Corp.
The Spaghetti Dinner Block Party was an event that was started in 2005 to celebrate Hoboken's 150th Anniversary. The idea was to recreate a community event that took place in 1955 for the City's 100th Anniversary – a Spaghetti Dinner Block Party on Washington St. It has been so popular we have continued this tradition, but now the event takes place along the Hoboken waterfront, overlooking the Manhattan Skyline.
August 26 - Jersey City LGBT Pride Festival
Gayborhood Jersey City & Humanity Pride Productions will host the 17th Annual Jersey City LGBT Pride Festival on Saturday, August 26th, 2017 noon-8PM. The Festival will take place on Newark Avenue between Grove Street and Jersey Avenue in the heart of historic downtown Jersey City. The Festival is adjacent to major mass transportation: PATH Grove street (two stops from Manhattan) and Bus. The Jersey City Pride Festival celebrates the diversity of the gay, lesbian, bisexual and transgender communities and allies of Hudson County and the New York City metropolitan area. Last year the official estimate of attendance at the festival was 9,000-10,000 people. The Jersey City LGBT Pride Festival is recognized not only as the premier LGBT event in Hudson County, but also one of the largest festivals in the Northern New Jersey region. The events of Pride season exemplify the strength and growth of our LGBT & allied communities.
September 9 - Jersey City Wine Fest
Wine Fest is your all access pass to hundreds of new wines from around the world. Travel the world of wine at Harborside's waterfront property. Guests will enjoy unlimited wine samples for the entire evening paired with live entertainment, food and interactive games. Session 1: 12:30 - 4:30 pm; Session 2: 6 - 10 pm.
September 17 - Newport Liberty Half Marathon
The Newport Liberty Half Marathon, with views of the Statue of Liberty, Ellis Island, the Verrazano Narrows Bridge and the stunning Manhattan skyline, is also the fastest around. This USATF certified course takes you along the Hudson River Waterfront Walkway and across to Liberty State Park–flat terrain with open skies. Plan for a post-race celebration at Newport Town Square with plenty of refreshments, music and drawings for a host of exciting prizes. $3,000 in award money will be offered to winning runners in each category, with proceeds donated to the Jersey City Medical Center – RWJ Barnabas Health, the area's only not-for-profit hospital, and the regional trauma center.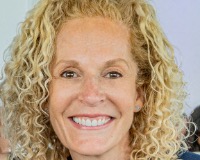 Jill Biggs leads the top-producing real estate team in Hudson County, N.J., a booming market located just outside of New York City. With more than a decade of experience serving Hoboken, Jersey City a....