Talks Of New Development On Baldwin Ave In Jersey City
On Baldwin Avenue between Washburn Street and the Divided Highway, there are talks of taking down one of the Delta gas stations for a new development project.

The site is listed as 348 Baldwin Avenue and could be the site of a 6 story 45-unit apartment complex. 350 Pavonia Group, LLC, is planning for the upcoming development to include 21 parking spaces on the premises for residents of the building. The potential project is a few blocks from bus lines to Port Authority and only a short distance from the Journal Square Path Train Station.
The building would include a bike area in the parking deck, an amenities room, a residential lobby, and one- and two-bedroom units. (according to JerseyDigs.com)

350 Pavonia Group LLC is a developer without much public information. It is unclear who owns the LLC and what former work they have done in the area.
The development would be huge for the continuing gentrification of the Journal Square neighborhood. Also, it would help drivers decide which gas station to use out of the two that stand there now!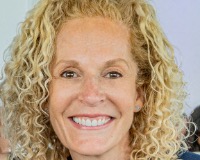 Jill Biggs leads the top-producing real estate team in Hudson County, N.J., a booming market located just outside of New York City. With more than a decade of experience serving Hoboken, Jersey City a....