Hoboken Arts And Music Festival 2018
For music and art lovers in the Hudson County area, the annual Hoboken Arts And Music Festival will be taking place this weekend. According to a city news release, the 24th annual incarnation of the free, public festival is slated to take place from 11 a.m. to 6 p.m. on Sunday, May 6 on Washington Street between Observer Highway and 7th Street.
For 2018, the event will include more than 300 artists, crafters, photographers, food vendors and local businesses. There will be three stages of live music, and kids' activities on 3rd Street.
Hoboken.gov post full event details here: http://hobokennj.gov/departments/human-services/cultural-affairs/arts-music-festival/
Check out the lineup here!
Noon – Nina Et Cetera

1:00pm – Jaime Rose

2:00pm – Long Neck

3:00pm – Richard Lloyd Group, the Alchemy Band

4:30pm – The Dream Syndicate
7th Street Stage
12:30pm – All Saints and BOLD Arts

1:15pm – Beninghove's Hangmen

2:20pm – Joe Taino

3:30pm – Jeremy Beck and the Heavy Duty Horns

5:00pm – MAXIMA ALERTA
3rd Street Stage
12:00pm – Ron Albanese (AKA Polka Dot)

1:00pm – Ron Albanese (AKA Polka Dot)

2:00pm – Preschool of Rock

3:00pm – Kid Notes Music w/Chrissy & Ralph

4:00pm – Kid Notes Music w/Chrissy & Ralph
Other attractions include:
Fine artists: oil paintings, watercolors, acrylics, sculpture, mixed media, photography

Children's activities: face painting, sand art, balloons

Crafters displays including pottery, metalwork, wood items, furniture, blown and fused glass, quilts, household items made from recycled materials, batik clothing, hand painted furniture, candles, jewelry, dried florals, soaps and lotions and other unique handcrafted items

Food: Hoboken restaurants will set up street cafes offering an eclectic variety of international foods such as Thai, Indian, Greek, French, Mexican, Cajun and Italian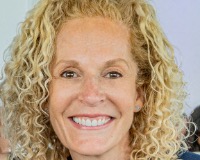 Jill Biggs leads the top-producing real estate team in Hudson County, N.J., a booming market located just outside of New York City. With more than a decade of experience serving Hoboken, Jersey City a....